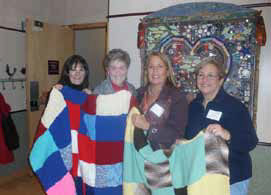 Warm Up America (WUA) is a national project that our Beth Shalom Sisterhood joined about a dozen or more years ago.
Individual participants knit or crochet 7″ by 9″ rectangles that are then designed and sewn together to produce unique, beautiful and warm afghans that are donated to many different organizations to distribute to people in need. Some of these organizations are: Jewish Family Services, Disabled Veterans, Synergy, NCJW, Operation Breakthrough, Safe Home, Wounded Warriors….just to name a few.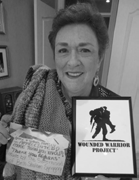 Over the years we have done about 370 afghans. Our Sisterhood provides the yarn and template and people can choose to come to our once a month get togethers (after this Pandemic). We even have several people who have continued to come get yarn from my trunk and turn in completed rectangles which are then designed and sewn together. Individual mitzvahs (rectangles) create group mitzvahs (completed afghans) which are one of the many Community Services projects offered by Beth Shalom Sisterhood.
Please donate to this most important cause here.
To get involved, contact our Committee Chair.