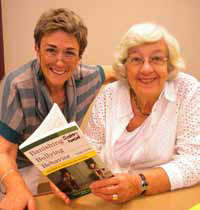 Beth Shalom Sisterhood Banishing Bullying Behavior Project Report
By Blanche Sosland, Chair
Presented by Dini Freed

The Sisterhood Banishing Bullying Behavior Project founded and organized by Carol Yarmo several years ago continues to be a work in progress. The most exciting news is we have now gained enough visibility for major organizations to come to us inviting us to volunteer in in their programs to address the problem of bullying behavior.
Aletha Simon and Joan Jacobson have met with Mr. Larry Lewis, Director of Volunteers for the Boys and Girls Club and his staff to develop a program for their children.
Blanche Sosland was invited to meet with Dr. Martha Gershun, Director of Jackson County CASA and Dr. Joy Koesten, a Board Member, to explore many areas for our BBB participants to collaborate with CASA and the following organizations:
Our Participants will conduct training sessions for CASA volunteers, the first scheduled for the week of November 16th. Although conducted by Jackson County CASA, volunteers from Johnson and Wyandotte counties will be invited to participate.
For those interested working with children one-on-one there will be opportunities to read to young children and give them much needed individual attention.
As you can see we certainly can use many more Board Members and Sisterhood members to work with children and adults to carry out our mission to banish bullying behavior.
Read more about this important topic here.
Please email Blanche Sosland or call her at 913-488-1116, or any member of the Sisterhood Banishing Bullying Behavior Project.