Fall, 2021
This year marks the 80th anniversary of the Women's League for Conservative Judaism's Torah Fund Campaign, and for over 60 years the Torah Fund Campaign has been an integral part of Beth Shalom Sisterhood. This campaign has enabled Women's League to support the Jewish Theological Seminary (New York), The Ziegler School of Rabbinical Studies (Los Angeles), the Schechter Institute of Jewish Studies (Jerusalem), the Seminario Rabinico Latinoamericano (Buenos Aires, Argentina), and the newest school Zacharias Frankel College (Potsdam, Germany). From these five schools come the future leaders of Conservative Judaism.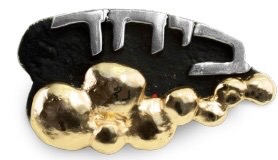 The Torah Fund theme and pin for 2021-2022 will continue to be B'Yachad, Together. Because the Covid-19 pandemic caused so many changes including our ability to meet in person safely and comfortably, the decision was made to continue using this inspiring theme and the pin (pictured above). Wearing this pin signifies the joy of sisterhood members working together year-round to make important contributions to the Jewish community through their volunteer efforts in the United States and Canada. Each of us is one small nugget of gold, but together our small gifts reflect and refract the light inside us and help each other shine. Together since 1942, the modest contributions of thousands of individuals to this Torah Fund have helped to educate and train each generation of rabbis, cantors, scholars, educators, summer camp directors, chaplains, campus Jewish life staff, and committed lay leaders– the people who guide and teach, console, and uplift us. We make this happen B'Yachad, Together.
We would like to thank you very much for your past participation in the Torah Fund Campaign. Here are the Benefactor Levels for your review:
Chayei Olam — $180
Guardian — $300
Associate Patron — $600
Patron — $1,200
Scholarship Patron — $2,500
Keter Kavod — $5,000
Donors at the levels listed above will receive the lovely B'Yachad pin. Please contact Rita or Toba (Torah Fund Co-Chairs), with your 2021-22 Torah Fund pledge so that we will know the number of pins to order.
National Torah Fund prefers donors to make contributions online whenever possible at: www.jtsa.edu/torah-fund.
You can still send your check locally by making it payable to Torah Fund to and mailing it to:
Janna Rosenthal, 3193 West 132nd Place, Leawood, KS 66209.
If you have any questions, please contact us. We look forward to your help in making this year's campaign a success.
With Warmest Regards,
SAVE THE DATE: April 27, 2022, for our annual Torah Fund Luncheon.
Please note that it is the week after Passover.