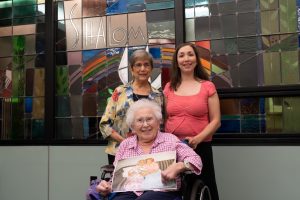 By Shira Wajcman
After I became Sisterhood President a potential new member asked me "what is Sisterhood" and I was a bit tongue-tied with my answer. Our Sisterhood is so many things for me that until then I didn't have a specific definition in my mind with which to reply to this question. Here is my response: Sisterhood is a diverse group of women coming together to help each other, our synagogue, and our community and thereby the world. Working for a common goal as a group has more of an impact than one individual working alone. As a member of Women's League for Conservative Judaism, sisterhood members are represented in many international organizations working to repair the world.
In the last year we had the Sarah Peltzman Education Series, Bams 4 Mams, "New Year New You" Fall Luncheon, Hanukkah lunch with musical Bingo, Sisterhood Shabbat, an evening Hamantashen bake, and Sisterhood Book Club. We had Prayer Partners until PrayerWorks started again and we were able to conduct this program twice virtually so far. We installed our incoming Sisterhood Board of Directors virtually as well. Our Community service activities include Ronald McDonald Family Room, Warm Up America, Banishing Bullying Behavior, as well as donating to the Torah Fund Campaign, Jewish Federation COVID-19 fund and HBHA relief fund. We also donate money to many aspects of our synagogue including Rose Family Childhood Education Center, Polsky Religious School and USY, all made possible from our wonderful Sisterhood Calendar and our beautiful Sisterhood Gift Shop. We are also affiliated with Women's League of Conservative Judaism, which is a wonderful resource for us and provides us the opportunity to attend WLCJ conference or Convention, inspiring us even more to make our Sisterhood the best it can be.
Our world is changing so much this year and Sisterhood must change with it to stay relevant. We will take pieces of the old normal with us into the new normal and hopefully come out even better. In our lives and in Sisterhood as well- in fact, this quarantine is bringing our Sisterhood more and more into the 21st century. Sisterhood is becoming more online than ever before. Our Sisterhood plans to be able to collect money online for Gift Shop items, Calendar Ads, Torah Fund, programming and even Sisterhood dues for the next fiscal year. Our fiscal year runs from July to June, which means dues invoices will go out this coming August. Our opening program in August and our fall program in September will be virtual programs. We don't know when we will have in-person gatherings yet, but Sisterhood is still here for you and there is so much more I hope Sisterhood can do. If you have an idea for programming or community service please let me know. If you are a member I thank you and hope you will continue to be part of our wonderful Sisterhood. If you aren't a member of Sisterhood I welcome you to join us. Together we can help each other, our synagogue, our community and the world.
To join Sisterhood, please make your dues payment here.
Please take our member survey here.
To learn more about membership in Sisterhood, contact our Membership VP here.