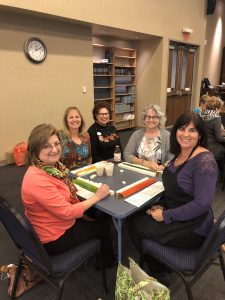 The 10th annual (2019) Beth Shalom Sisterhood Bams for Mams program was a big success, raising nearly $1,200 for the KU Breast Cancer Center. More than 70 women from throughout the community took part in this enjoyable day of Mah Jongg, friendship, and brunch.
Unfortunately, with the onset of Covid and the mandate of social distancing, we will be unable to gather in Goldsmith Hall this year. However, that should not stop us from coming together virtually in support of Breast Cancer research. We urge each of our members/congregants to make a donation to the University of Kansas in support of Breast Cancer Awareness month (any time between now and the end of 2020).
When we resume our in-person programming in 2021, it will be twice as sweet knowing that we did not let this most important program go by the wayside. To make your donation, go here or you are welcome to mail your check to University of Kansas Cancer Center, 2650 Shawnee Mission Parkway, Shawnee Mission, KS 66205.