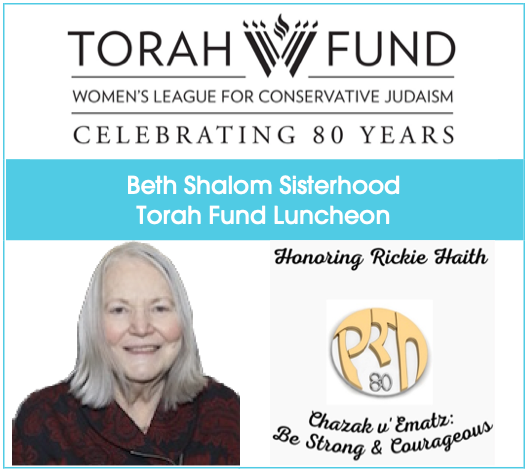 The Torah Fund luncheon will be April 19th at 11:30am at CBS in Goldsmith Hall. We will be honoring Rickie Haith for her contributions to Beth Shalom and the Greater Kansas City Jewish community.
Entertainment will be by Adam Galblum with a musical tribute in Rickie's honor.
The Torah Fund Campaign theme for 2022-2023 is "Chazak v'Ematz" which means "Be Strong and Courageous." This theme symbolizes the story of the Israelites preparing to enter the Promised Land, when the leadership transitions from Moses to Joshua. The Israelites and Joshua are instructed to "be strong and courageous" (Deuteronomy 31:6, 7, 23; Joshua 1:6, 7, 9, 18). The 5783 Torah Fund pin represents 80 years of ever-increasing strength of Torah Fund.
This is Torah Fund's 80th year. Contributions of thousands of individuals to our grassroots fundraising effort have helped to educate and train generations of rabbis, cantors, scholars, educators, summer camp directors, campus Jewish life staff, and committed lay leaders. These are the people who guide, teach, console and uplift our people whether in person or remotely, during these challenging times. Read more …
The luncheon is $25/person. Please RSVP BELOW.
If you have not previously made your $18 Torah Fund donation, please donate HERE or send a check to Mari Anne Birnbaum at 6201 W 125th St, Overland Park, KS 66209.
Questions? Please contact one of our Torah Fund chairs Rita Shapiro and Toba Maslan.
We make this happen together. Join us!