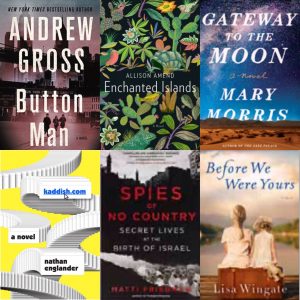 Beth Shalom Sisterhood Book Club was organized in 2009 and met usually six times a year–August, October, December, February, April and June. In June of every year, the group would make suggestions of books to be considered for the coming year. The criteria was the book had to be written by a Jewish author or about Jewish subject matter. In later years, we voted to allow one book per year that didn't meet this criteria. For example, "The immoral Life of Henrietta Lacks."Synopses of all the contenders were passed around and voting was done on each book to select the six Book Club selections.
Book Club used to be held in the evening at 7:00 pm. Members would volunteer to have book club for a meeting at their home. Winter months of December and February were held during the day usually at 1:30 pm so ladies didn't have to worry about driving at night during inclement weather. In the winter months, the meetings were held at the J in one of the private rooms.
Before the book was discussed, a biography of the author was presented. Discussion of the book that was chosen for that particular month was led by one of our members. Other ladies viewpoints about the book made for interesting conversation.
When Covid-19 came in March, we had to postpone our future meetings until the medical experts feel it is safe to meet in person. It was suggested to have the meetings via ZOOM. The majority of the ladies voted to not use ZOOM because it would be difficult to have discussion of the book.
When it is safe to be able to meet in person, this news will be in The Scroll and on Constant Contact. Sisterhood members and non-congregant Sisterhood members are invited to join Book Club. If you would like to be added to the Sisterhood Book Club eblast, send your name, email address and a phone number.
Linda Lessner